The pre-season campaign at Seel Park came to an end last Thursday night in a nine goal... I don't know, what's the opposite of thriller?
Apologies for the late appearance of this report but its been a struggle to write - something which doesn't exactly bode well for a match reporter with the season less than a week away.
Why such a struggle? Well, despite the continual running back to the centre circle to restart the game, the whole thing was a tad mundane with little to get excited about.
As I've said many times in the past, a hatful of goals doesn't necessarily mean a great game and this was a perfect example. There was the occasional bit of good football but there was a fair amount of bad stuff too (and some of the latter will have undoubtedly made both managers rather angry).
Despite Springhead (and you don't know how many times I've typed Springfield instead) taking a very early lead thanks to Mossley's propensity for gifting opponents goals (this time a poor defensive back header was the catalyst), a shock result was never likely to happen.
Anyway, here are the highlights. Well, all but one important one:
At least the sunset was nice though.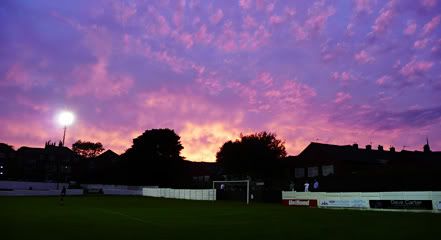 And that's it from me as far as the pre-season games go. I didn't make the trip to the final friendly fixture at Kidsgrove because... well, I could make up a story of woe that prevented me from going but the truth is I just couldn't be bothered.
I know, call myself a supporter?