In various corners of the media there's a growing support for the belief that global warming is a myth. The evidence they use to back up their claims are recent scientific reports that say the earth's temperature has actually cooled over the last few years.
I on the other hand would like to counter those claims with some evidence of my own that proves the earth is getting warmer: it's taken till the end of November for Mossley to have their first match postponed due to the weather.
Usually by this stage of the season, the T.B.A. section at the bottom of the fixture list is already full of meetings that have been delayed by frost, freezing fog, etc. Yet here we are, about to open the first door on our Advent Calendars and we've only had one 'Match Off!' posting on the forum.
It wasn't only Mossley's game with Ossett Albion that the deluge over the last few days affected. A sizeable chunk of fixtures across the north-west were written off through waterlogged pitches; a situation which led some hasty scrambling around on the internet to find a local game to attend.
Three possibilities presented themselves. However a total lack of desire to see Droylsden vs Hyde (£10 to watch that - no thank you) or Ashton United vs North Ferriby United (like the Robins but not enough to watch them at Hurst Cross in the rain) meant there was only one option left.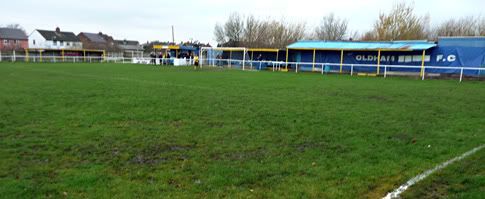 So with flask, gloves and umbrellas packed we headed to the Whitebank Stadium to see fellow visitors Cheadle Town take on Oldham
Town
, sorry, Boro in the Vodkat League Division One Trophy; the presence of four Mossley supporters with nothing better to do bumping the gate up by almost 13% and swelling the clubs coffers by £17.90.
I'm not going to go into enormous detail about the match but if you want to read about what happened then I recommend checking out the report
here
because it's a) better than one I could ever come up with and b) the person who wrote it actually knows the names of the players.
To sum things up briefly though, it was a genuinely enjoyable game with both sides trying to play good, passing football on a pitch that was suitable for anything but. The result was harsh on Oldham too who dominated most of the game but ultimately paid the price for not getting enough of their chances on target; something that's known as being 'a bit Mossley-ish'.
Anyway, in what's likely to be one of the least watched videos I've ever done, you can see some of the events that unfolded in the following highlights... thingy:
It wasn't a bad way to spend what would have been an otherwise depressing afternoon watching Manchester City snatch a draw from victory's jaws against Hull via the internet. Actually I enjoyed it enough to think about making another visit sometime in the near future.
Before that though it's off to watch Mossley at Woodley Sports on Tuesday where, barring another outbreak of swine flu at Lambeth Grove or the plastic pitch bio-degrading within the space of two days, the match will definitely go ahead.
Woodley on a cold and possibly wet Tuesday night in December, I can't wait... for it to be over.