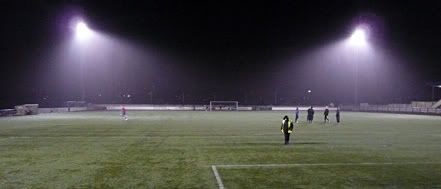 I'd like to bring you an in-depth report on a fantastic match I watched last night at Lambeth Grove between Woodley Sports and Warrington Town.
I'd like to but I can't. You see the match was woeful. Really, truly, unbelievably woeful. If ever a game deserved to finish 0 - 0, it was this one.
No, scratch that - it didn't desevre to finish. What should have happened was the referee to abandon it at half-time and force the players and management of both sides to apologise personally to everyone who'd paid to watch. It wouldn't have taken long either as there were only 93 souls there. A marked improvement on the 59 we'd counted midway through the opening period.
Yes things were that bad we were counting the crowd.
The first ten minutes of the game suggested that we wouldn't regret for a second the choice we'd made in paying £7 to stand in the rain on a cold, Tuesday night. It was almost exciting as the Warrington number seven pumped in cross after cross towards a Kenwyne Jones look-alike but, sadly for Town, not a skills-alike. More a Can'twin a header Jones.
You know, with gags like that I can't understand why this blog is only getting a few hits a day.
After those first 600 seconds or so though it was downhill faster than Franz Klammer on greased up rocket powered skis in an avalanche.
The most notable incident in a coma inducing first half was Gavin Salmon hooking a goal bound shot off the line. Sadly for him it was the goal he was supposed be trying to score in.
Warrington hit the woodwork twice in the second period during a passage of play that threatened to raise the interest level to 'mildly moderate' before Woodley scored a less than deserved winner from close range with fourteen minutes left.
Even a punch-up in the last five minutes was a half-hearted affair with the faux machismo being exhibited punctured by one player with a high pitch voice declaring "He kicked me first Ref!"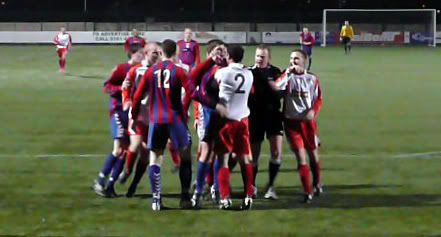 The scuffle, just before it breaks up in order for the protagonists to reapply their make-up and untangle their handbags.
So that's that. Possibly the worst match I've seen this season and something I never thought I'd be saying again after the Curzon - Lancaster game back in August.
Mossley80: Going to places so that you can be thankful you didn't.