With mere seconds of 2008 left I resolved that in the coming new year my match reports would be shorter and more perfunctory because, being the slow writer that I am, they take me forever to do.
As you can see if you scroll down to the bottom of this report (go on, I'll wait here for a couple of minutes while you do), I wasted micro moments of my life coming up with and sticking to that particular resolution.
At face value the point taken from this game looks like a good one. Not only was it one that finally brought to an end a three match losing streak at Seel Park that stretches back over two and a half weather disrupted months, it was a point gained against a side currently second in the league and one of the favourites for promotion. The 'whole story' however is that the solitary point should have been three; the Lilywhites once again paying the price for not finishing off their opponents when they had them on the proverbial rack.
The afternoon got off to a perfect start for the home side when Danny Self prodded home a Lee Blackshaw free-kick at the back post in only the second minute. Over the course of the following thirty Mossley created enough opportunities to have won the game three times over as they virtually laid siege to their opponents goal.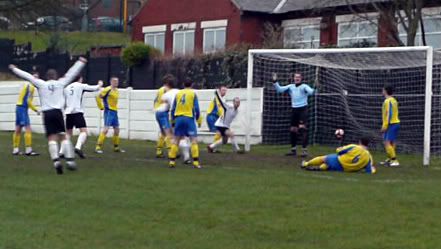 Danny Self prods Mossley into an early lead
Unlike their previous game against Curzon though where shooting accuracy, or rather the lack of it, was to blame for Mossley failure to make their domination of proceedings count, this time round it seemed like fate was conspiring against the men in the white shirts.
Self saw a shot bounce of upright, the ball was twice cleared off the goal line, City keeper Beesley pulled of a series of unorthodox, some would say fortunate, saves and on more than one occasion the ball was prevented from crossing the line by sheer good fortune than good defending - goal bound shots striking players oblivious to what was going on and bouncing off to safety.
If it was a boxing match a good referee would have stopped the contest. Sadly this was a game of football and a good referee didn't appear to be anywhere within the vicinity.
For the second time in five days though Mossley were hit with a sucker punch. Just as Curzon had done five days earlier Lancaster scored against the run of play. Not only was it their first shot on target, it looked like it had been mis-hit too but Adam Airey's bobbling effort in the 35th minute had enough pace on it to beat the outstretched arm of Andy Robertson and give his side a decidedly unmerited equaliser.
That said it was an incredibly soft goal to concede and something that has been happening rather too much of late. I mean, when was the last time you saw a side score a
really
good goal against us? On the whole we're pretty solid at the back but these momentary lapses in concentration are costing us dearly.
To Mossley's credit it didn't seem to affect them in anyway and from the restart they continued to put their opponents under pressure and City's goal continued to lead a charmed life. None more so than when a crisply struck shot from Michael Fish cannoned off the foot of the post and rolled along the goal line before being cleared.
After an opening forty five minutes packed with incident there was no reason to expect that the remaining three quarters of an hour wouldn't be any different. But just as they'd done in the midweek derby, Mossley returned to the pitch for the second period looking a shadow of their first half selves. Again the vigour that had defined their performance in the previous half was replaced by one of lethargy and hurried, wayward passes.
Fortunately for the home side though Lancaster, unlike Curzon, had no apparent desire to use this turn of events to their advantage. Only once did their surprisingly rudimentary approach look like paying dividends. It came in the 53rd minute when a hopeful lob from distance bounced back off the crossbar and to the feet of Paul Haddow who'd been allowed to ghost unmarked into the area by the Mossley defence. With the goal at his mercy he delayed his shot long enough to allow Robertson to recover from the initial effort and make a good save.
They had a couple of other half chances but nothing like or even numbering the openings the Lilywhites had carved out when kicking towards the same goal.
It wasn't until the 69th minute when Danny Dignan became the third Mossley player to strike the post that the home side began to rediscover their drive and invention. By this late stage of the game however their path to goal was being blocked by a wall of yellow shirts as City packed out their defence. It was a wall though that should have been without a component part for the closing minutes of the match.
An inch perfect pass from Chris Hirst put Danny Egan clean through on goal with only the keeper to beat. It was at this point though that he was upended by one of the most cynical challenges I've seen at Seel Park in many a year.
City centre half and captain Michael Stringfellow, with no chance of getting the ball himself, literally had to throw himself feet first at the Mossley forward to stop him getting his shot away (see picture below). It was three offences all worthy of a red card rolled into one. Not only did he deny a goal scoring opportunity (red card #1), it was a professional foul (red card #2) and both feet were off the ground - and high - as the 'tackle' was made (red card #3). The number of actual red cards shown though: none.
The challenge that the referee deemed in no way worthy of a card or a talking to.
Even as the body language of the Lancaster City players suggested they they were preparing to play out the final few minutes without a full compliment of players, the referee deemed the challenge not even worthy of a lecture. And in doing so reinforced the conclusions many supporters had come to about him since 3:00pm.
I've said it before in the past and I'll reiterate again here: referee's don't lose you games. What they can do however is make it a damn sight harder for you to win and the official in this game, who shall remain nameless because I don't want to give his ego a boost by the thought that I've actually bothered to look up who he was, sadly fell in that category.
Even ignoring his refusal to punish Lancaster with nothing more than a free-kick for the cynical foul in the closing moments, his refusal to punish them at any time in the match was staggering. Simon Wood was booked for three challenges on Lee Dodgson (only one of which was an actual foul) yet Northern Rail late challenges on Alex Mortimer and Danny Dignan in the second half didn't even have him contemplating putting the whistle to his lips.
Some of Stringfellow's earlier work leaves Dignan in a heap.
I hate criticising officials, and you'll have seen very little of it on this blog over the years, but at times they do themselves absolutely no favours at all.
Having seen Lancaster play already this season, albeit only once at Curzon Ashton, I said before the game that on the evidence of that match I couldn't understand how they were as highly positioned in the league as they were. Admittedly one game can give a false impression but I saw nothing different from them in this game to alter my opinion.
Unless I've had the misfortune to see City's two worst performances of the 08/09 campaign so far, how the thuddering funk are they at hovering around the top of the table? Along with Halifax, another team whose league position masks the fact they're nothing special, it makes you wonder about the quality of the division this year.
This isn't a criticism of Mossley. We're still a work in progress and it's a progress I'm not alone in being happy with, but where's the justice in good footballing sides such as us, Newcastle, Trafford, etc. occupying spots in mid-table and just outside they play-offs when unadventurous sides such as the "big guns" mentioned in the previous paragraph can bore and scuff their way to glory?
Deep breaths and calm...
Unlucky hardly seems the appropriate condolence to Mossley after this game but it is the only one that fits. I know that you're supposed to make your own luck in football but if that's the case Lancaster must filled with factories manufacturing the stuff for their team.
If we carry on playing as we are then it will only be a matter of time before one of our opponents leaves the pitch at the end of a match in a beleaguered fashion, having been on the receiving of a medieval beating. Scoreline wise and not in the Curzon sense of the term.
It's hard to fault the team after a game like this one but I'll give it a go. ;)
Actually there was very little to complain about and what there is just seems pickly. I've already mentioned conceding soft goals way, way up above this little paragraph but the long ball from front to back which was overused against Curzon also outstayed its welcome in this one.
Used sparingly it's a nice weapon to have in the armoury but it reached the point in this game where Lancaster knew what was coming and more often than not as the game wore it launched more attacks for them than it did for us.
Outside of those quibbles though I find myself a touch ebullient about the position we're now in. We're playing good football, there's strength in depth and while we're not winning matches we're certainly giving it a damn good go. And win or lose that's all you ask for as a supporter.
It's certainly a world away from this time two years ago when we were on a run of one win in fourteen, and the same stage last season when we were embarking on a run of one win in thirteen with tough game against Skelmersdale honing into view on the horizon.
Not everything changes though. Up next in the league for Mossley – a tough game against Skelmersdale.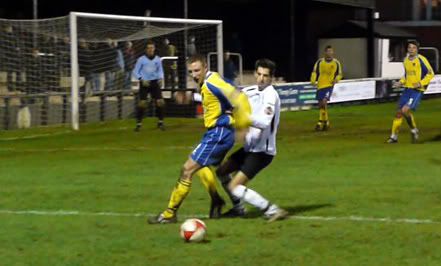 And fingers crossed that by next week I'll have finally got round to acting upon my New Year's promises.