Home may be where the heart is but it definitely isn't where the points are for Mossley.
While performances away from home have generally been impressive this season, their home form has been a touch more enigmatic. It's hard to put a finger on as to why this is the case but certainly conceding goals in the manner in which they did in this game certainly doesn't help.
It's been said by a few people this season that Mossley don't concede good goals, only poor ones and this one only adds weight to that argument.
With a little over twenty minutes left, what was nothing more than a hopeful punt from deep within the Skelmerdale half caught Mossley's defence at sixes and sevens and substitute Chris Almond, who'd only been on the pitch a matter of minutes, took full advantage of the space afforded to him to slip the ball under Andy Robertson.
To make matters worse for Mossley it turned out to be the only goal in what was otherwise a very tight game and one in which both sides had spent the majority of it cancelling each other out.
Having said that things did look a trifle ominous for the home side in the opening ten minutes of the fixture; a period of time in which they were almost exclusively confined to their own half. Fortunately their defending was solid and Skelmersdale's highly rated attack were restricted to nothing more than the occasional overly optimistic effort from distance.
After weathering the early storm Mossley started to come into the game more and by the midway point the roles were reversed with Skelmersdale being forced to defend deep. Like their opponents though the Lilywhites were making little headway in converting that possession into an advantage on the score sheet as a combination of a well drilled defence and poor deliveries from the wings and set pieces brought some promising moves to a premature end.
As half-time neared both sides attacks managed to start finding a few cracks in their opponents back lines and after Robertson had been forced into making a fingertip save from Sean McConville, the home side went close when Danny Egan hit the foot of the post, Graham Kay flashed a header narrowly wide of the same upright following a corner and keeper Ryan McMahon made hard work of Reece Kelly's twenty yard daisy cutter.
The second period if anything was even tighter. Chances, even half ones, were non-existent as both sides effectively cancelled one another out and the longer the game wore on, the more it looked like both sides would play out a goalless stalemate. But then came that momentary lapse in the 69th minute and it was effectively game over the Lilywhites.
It shouldn't have been as with almost a quarter of the match left there was still plenty of time for Mossley to rescue at least a point, but by dropping their passing game and resorting to the long ball down the centre of the pitch, the Lilywhites played straight to Skelmersdale's defensive strengths.
It was a decision that was as baffling as it was irritating to watch as Mossley continually surrendered possession using a tactic that not only failed to utilise any of our many strong points, but proved fruitless in recent games against opponents of a similar high quality to Skelmersdale.
So instead of McMahon being forced to endure a torrid time in the closing stages as the Lilywhites went in search of an equaliser, the United goalkeeper was effectively a spectator as his defence soaked up the succession of balls being dropped into them.
The visitors were denied the opportunity to register what would have been a very flattering scoreline when the referee waved away their appeals for a penalty as the end of the game neared. Its non-awarding can possibly be put down to Skelmersdale having 'cried wolf' far too often in the game.
Before the game there was some of the discussion on the terraces as to whether we'd see the 'Lawson gambit' again. This for those who don't know what it is dates from Skem manager Tommy Lawson's time as boss at Prescot when they employed a tactic that saw a Cables player scream and fall to the ground claiming to be injured every time they lost the ball. Not only was it irritating it was poor incredibly poor gamesmanship too and befitting of a team that was frankly good enough not to have to resort to it. And lo and behold it made a return in this game too.
Fortunately, despite the other criticisms that can be levelled against him, the referee for the most part refused to be taken in by these dubious shenanigans. The main perpetrator was full back Shaun Foster who spent most of the match falling over and holding his leg, even when it was blindingly obvious that no contact had taken place. His third attempt at claiming something untoward had gone on finally invoked a talking to from the match official and his fourth should have earned him a belated yellow card.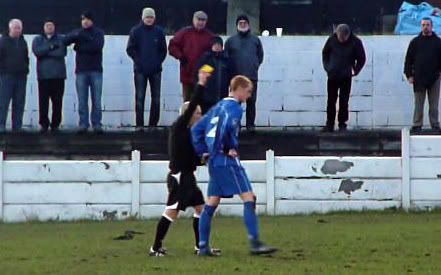 A rare moment caught on camera: Foster in an upright position
He wasn't the only one at it either. In the closing minutes midfielder Adam Birchall had the ball taken off him by Chris Hirst and as the Mossley player pulled away the Skem number eight collapsed to the ground and rolled around while claiming he'd been intentionally stood on. This was followed by a scream, the kind of which probably hasn't been heard since Torquemada and his employees were forced to down tools. The referee rightly waved play on and without any hint of embarrassment Birchall immediately got up and was running about without even the good grace to feign a limp. Hardly surprising that the shout of 'cheat' echoed round the terraces so often during the course of the match from the home supporters.
This isn't sour grapes. We gave it a good go but we lost the game. It's just that while Skelmersdale are undoubtedly a good side (centre half Michael White was possibly the best player on the pitch) their spirit of the game betraying theatrics are appalling and, just as they were for Prescot in the NWCL, completely unnecessary.
But what of Mossley? Skelmersdale's much vaunted forward line were made to look like shot shy amateurs and considering we'd been forced into making changes to what had been a relatively settled line-up thanks to the bruising encounter at Maine Road in midweek, we looked incredibly comfortable against one of the form teams in the league.
Like figure skating though all it needs to ruin everything is a single slip and that's what cost us this game – that brief and sole error which allowed Almond to nip in and settle the game. The problem for Mossley however is that while other teams are pouncing on the one or two mistakes we make, we're letting them get away with theirs, particularly at home and until that situation is rectified 'unlucky' is going to be the one word report for the foreseeable future.
January was always going to be a tough month at Seel Park for the Lilywhites with the fixture list throwing them up against Curzon, Lancaster and Skelmersdale in quick succession. And the points tally from these games, one from a possible nine, would appear to bear this out.
The underlying story though is that Mossley's performances in all three games were worthy of more than the single point they attained. However their inability to capitalise on the moments in games when they were on top leaves them having to wait until February at the earliest before they can finally register their first home win in any competition since October.
Oh well. At least there's some small comfort in the fact that it's ever anything but dull at Seel Park.