Day ten of 2009 comes and goes and Mossley are still yet to play a game in the new year.
Well that's not strictly true. After overnight temperatures once again plunged into the negative on the Celcius scale and rendered the pitch at Skelmersdale, Mossley's scheduled destination, unplayable, the Lilywhites took part in a hastily arranged friendly against Flixton at a sports centre somewhere in west Manchester.
However, as the friendly was announced a mere 42 minutes before its midday kick-off, watching it was not an option given that at the best of times it's easier to reach the mythical land of Shangri-La than the other side of Manchester on public transport, let alone at less than three quarters of an hour notice. A football fix was needed though so out came plan B.
With practically all games both local and regional off it meant that for the second week running it was to Lambeth Grove we availed ourselves once more and to where we were treated to a brand new experience - queueing at the turnstiles to see a Woodley Sports game.
A few weeks without a match to watch had obviously taken its toll on a lot of local supporters and their desperation to see a game provided the home team with a bump of almost 200 on their average home attendance. Besides the Mossley supporters who'd made the short journey there were fans from Ashton United, Trafford, Hyde United, Rochdale, Buxton, Manchester City and probably many, many more. There were a few rumours doing the rounds that there were some supporters from Woodley and Rossendale too but that just seems fanciful.
Two players challenge for the ball. No idea who they are but it's one of the few photos that came out okay.
The game itself it was a good one, if a little one sided as Woodley picked up the three points on offer without working up too much of a sweat. A goal in each half, even if it should have been more, gave them a comfortable 2 - 0 win over a very poor looking Rossendale side.
That's not to take anything away from Woodley though who have undergone a significant improvement without a huge change in personnel (on the pitch at least ) since we stuck four goals past them in November - you know, back when Mossley used to play matches.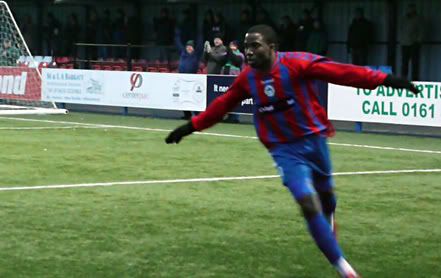 Gavin Salmon pretends to be an aeroplane in celebration of Woodley's second goal.
What lulls in play there were more than filled though by head scratching topics of conversation taking place off the pitch which somehow over the course of the ninety minutes went from blue ice to Scottish beavers via what trains leave in stations, ninjas, Lee Van Cleef, Shooting Stars, weather girls, suffragettes, the exact words of Gilly, Gilly, Ossenfeffer Katsenellenbogen-by-the-sea (e-e-e-eeee) and elk cloning. Plus a few other things I couldn't possible repeat on a blog that doesn't require it readers to be 18 years or older to read. A typical Saturday afternoon then.
To Tuesday then when it look almost certain that Mossley will play their first match at Seel Park in nine weeks. That is unless Mother Nature sticks her enormous oar in again.
Oh, and if you're interested, Mossley apparently won their friendly 5 - 1.