One game.
Out of a normally hectic period of football over the New Year, that's all that remained locally after the continuing low temperatures decimated the fixture lists. And at half-time I was really regretting that this one, a Unibond League Cup tie, had survived.
Even though I'd witnessed a stunning second minute strike that gave Kendal a one goal lead at the interval (which to be truthful had more than an element of hit and hope about it than intention) and watched Woodley waste three gilt edged chances to pull level, there was little else to suggest that making the effort to attend was worth it, such was the paucity of fare on offer.
Thankfully what transpired in the second half quickly put an end to the daydreams I was having of what I could have been doing had I stopped at home in the warmth.
Woodley, manager less and a league below their opponents, proceeded to give Kendal the proverbial runaround. Their efforts looked to have been in vain though as chances flew wide of the goal and what time was left (as well as the temperature) rapidly dwindled.
With four minutes of the match remaining there was a bitter-sweet moment when Woodley got the equaliser they richly deserved via a thirty yard daisy cutter from Gavin Salmon, who had up to that point been Sports' sitter-misser-in-chief. It was a richly deserved reward for their efforts but it also meant that extra-time now loomed large on the horizon; never a welcome thing on the warmest of days, let alone when it's on one that would see pengiuns shivering. And getting colder.
The prospect of thirty more minutes at Ice Station Lambeth Grove looked to have been avoided when the Cumbrians responded to Woodley's equaliser with a goal of their own in the nintieth minute. To say it was something of a shock would be an understatement as up till that point there attack had been declared M.I.A.
So with a "hard luck" thought transmitted to the Woodley players we started to make our way home, only to find ourselves trudging wearily back to the spot we'd just vacated on the touchlines when Woodley produced another equaliser in the third minute of time added on. In fact on Channel M's footage of the game you should be able to see us turn on our heels as the overhead kick from Cotton flies into the net we're walking behind.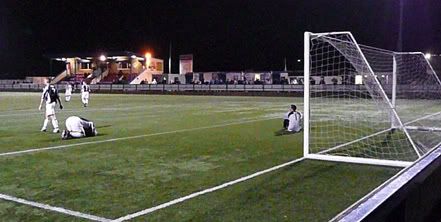 Kendal players take time out to contemplate the prospect of spending thirty minutes more than they'd planned to in the Stockport suburbs.
As seems more often than not to be the case when it comes to extra-time, the goal that ultimately wins the game arrives not long after it starts, and this match was no exception. Just four minutes had elapsed when Melling headed in from a corner and unlike 'normal time' Woodley couldn't muster a response; due in no small part to Kendal manager Lee Ashcroft's introducing himself into the game and adding a work ethic to his side that had been visibly lacking and some weight to his sides otherwise hapless attack.
No more goals were forthcoming which while unfair on Woodley, was welcome news for my extremities which were about to wave the white flag - the temperature having dropped so much that I don't think I could have made it through a penalty shootout without something dropping off.
The final whistle not only signalled Kendal's passage into the next round but brought to an end the festive campaign for another year too. It's one which hasn't seen much in the way of football this time round but the other sad aspect of its passing is that, for many of us, it also signifies that the return to work is just around the corner.
Although for how long you'll actually be attending work over the coming year in these financial 'End Days' is another matter entirely. Personally speaking, while the end is not nigh, I get the feeling there's a priest who has been put on standby to administer the Last Rites before I depart into downsizing limbo. Still, no use worrying about the future. Well not yet anyway.
If only all places of work were like this:
The weather forecast for the coming week doesn't look good but, fingers crossed, the next update to this blog should be a report on Mossley's first game at Maine Road for quite some time as we re-embark on the 'road to wherever the County FA can hire out the cheapest' in the Manchester Premier Cup.