You know, I could get quite used to this winning malarkey.
After struggling over the first month of the season to add to that opening day win at Garforth, Mossley made it three – yes, three!
THREE!
- in a row with a hard fought (rather too literally at times) victory over Trafford at Seel Park.
Heady times indeed.
The opening period was a keenly contested affair during which Mossley controlled the majority of possession but couldn't find a finish to match some excellent approach play. Trafford on the other hand looked happy to soak up the pressure and try and use the pace of their wide men to hit their opponents on the break.
Both sides had chances to edge themselves in front. A Karl Brown free-kick was inches away from giving the Lilywhites the upper hand, while it took an excellent save from Peter Collinge to prevent Scott Barlow finding the back of the net for the visitors
The breakthrough finally came a minute before the half hour when Steve Moore's angled run towards goal was brought to a halt by Trafford defender Billy McCartney. Despite winning the ball cleanly the referee deemed the challenge from the former Mossley player an illegal one, the result of which was a penalty that Danny Egan calmly converted to give the home side the lead.
One quickly became two after Moore unexpectedly found the ball at his feet courtesy of a terrible clearance by Trafford keeper Tom Read. Taking a couple of touches to bring the gift fully under control and create space for the shot, he stroked the ball past Read to register his first goal in a Mossley shirt. And not only that but their first goal in open (non set-piece) play since Michael Jackson was still warm.
Sorry. Too soon?
It was at this point though a game which had been played in a '(very) hard but (mostly) fair' spirit suddenly boiled over into something a bit more unpleasant. Somewhat understandably the visitors began to get a bit frustrated at going two goals down but the way it manifested itself in some of their players was not for the faint hearted. Challenges became wild and reckless and that they managed to make it to the interval with eleven men on the pitch raised more than a few eyebrows.
Melford Knight in particular endeared himself to the supporters of the club he used to play for with a display you wouldn't normally associate with a team captain. After spending what seemed like a good three minutes arguing with the referee about an incredibly trivial incident as the game went on around them, he was fortunate to receive only a yellow card and not a straight red for an awful tackle.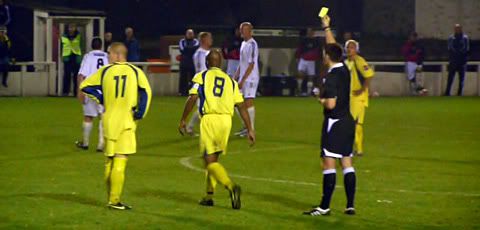 There should have been less yellow and a touch more red in this picture.
He wasn't alone though and as the teams trooped from the pitch at the interval it was hard not to wonder how long it would be before a player was forced to make that walk alone under the very specific orders of the referee.
Ten minutes as it turned out.
That's the length of time that passed between the match restarting and Trafford's Shelton Payne being given the opportunity get off home a bit earlier than expected; a yellow card for a completely unnecessary tackle from behind next to a corner flag, immediately followed by similarly hued one for dissent.
Bizarrely the dismissal seemed to have a calming effect on the visitors and the rash tackles were replaced by some good passing football. And despite the disadvantage in numbers they actually looked for a lengthy period of time like the side most likely to score next. That they didn't was down to a combination of two things: some excellent defending from the Lilywhites and the same awkwardness in front of goal that Mossley themselves have displayed on numerous occasions this season.
As they began to throw more men forward in search of a way back into the game, gaps started to appear for Mossley to exploit and but for the width of a post and an offside flag the margin of victory would have been a lot more comprehensive.
Not that many associated with Mossley will complain though as the 2-0 score line gives them their first home league win of the campaign and brought to an end a week which has seen a sharp and welcome upturn in their fortunes.
Three consecutive wins. Three consecutive clean sheets. Three consecutive sentences with the word consecutive in it. Who'd have thought after the Salford game that such things would transpire over the course following eleven days?
If you answered "I did!" to that last question then I would like to take this opportunity to point out your pants are on fire and that your nose is longer than a telephone wire.
But that's football isn't it? It's not a game designed for people who are allergic to surprises or who hate having their sanity slowly chipped away at. It's there for us masochists to get whatever pleasure we can out of the extreme highs and lows it puts us through before it finally sees us off.