If I was in the habit of doing short match reports, really short ones, it would probably go something like this: we won and it was a million times better than the Clitheroe match.
Should that be all you ever wanted to know about what happened on the banks of the Ship Canal last night then stop reading now or you could be here a while.
After waiting almost two months to register their first league win of 2009, Mossley made it two in four days with a hard fought for victory at Warrington Town's Cantilever Park. And unlike the late, late, late show that enabled them to win their previous game against Clitheroe, the solitary strike that settled this contest in Mossley's favour arrived much earlier.
The match was only three minutes old when Lee Blackshaw and Clive Moyo-Modise combined to set up Michael Fish, and from twenty yards out the Lilywhites leading scorer struck the ball almost effortlessly into the bottom right hand corner of the net.
In the sixty seconds following the goal Mossley went close on two occasions to doubling their lead. First to trouble the scoreline again was Reece Kelly whose mazy run into a crowded penalty area was met with a good save from Ritchie Mottram. Moyo-Modise's pace then left Town's defenders trailing in his wake as he broke forward from the halfway line after the home side had surrendered possession. Unfortunately the finish couldn't match the approach play and his tame effort rolled past both a relieved keeper and the upright.
It brought to an end a blistering opening to the game from the visitors but it also turned out to be their last real chance for quite a while as Warrington upped the tempo of their own game and started to cause the visitors an almost never ending series of problems. Standing between Town however and the goal their efforts probably warranted was Andy Robertson, the Mossley keeper, who pulled off a string of stunning saves in each half to maintain his sides lead.
I only wish I'd managed to get some of them on video because a couple were truly staggering including: a double save that stopped an o.g. from being added to the score sheet, a flying leap to palm away a shot from a well worked set-piece arrowing into the top corner of the net and, best of all, an instinctive one handed stop at close range when a goal had looked an inevitability.
That's not to say that the defence in front of him weren't doing their job properly – they were. Messrs. Middleton, Boothby, Wood and Mortimer all produced some telling tackles that prevented Robertson from having to face more shots than he did.
Make no mistake about it, Warrington had us under the cosh for a considerable length of time. Thankfully, whereas Mossley teams in the past would have folded under the pressure, and quite spectacularly too, we seem to be made of sterner stuff these days
As the home side became visibly more exasperated by the failure to score, the Lilywhites slowly began to force themselves back into the match more and having started the game on top, they finished it in the same way.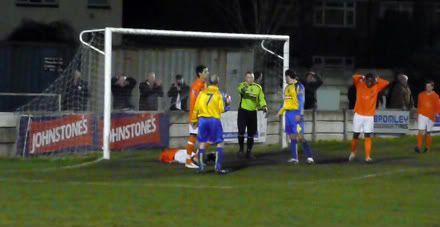 One of a few hands on heads moments towards the end of the game.
The second goal that would have settled the game (and a few nerves) never arrived though, despite the best efforts of Blackshaw, Fish and substitute Danny Egan who did find the back of the net, only for his shot to be ruled out for offside in what was a very marginal decision. Okay, forget the diplomacy – it was a poor decision.
Having said that Mossley themselves had benefited from a lapse in the officials judgement just quarter of an hour earlier. And had the officials penalised Nick Boothby for a shirt pull as a Town forward burst into the box, it's likely we'd have been facing a penalty and seeing out the rest of the game with ten men. Swings and roundabouts is the phrase that I believe is appropriate here.
In the end Fish's early strike proved to be enough to separate the two teams and whether it's boring or exciting, a win is all you ever want to see when your side plays football. And thankfully, though it may have been the same scoreline as the previous match, it was a damn sight more exciting and tense as the numerous grey hairs that sprung up overnight on my head will attest to.
A lot of credit for heart quickening nature of the game has to go to Warrington as they played men like possessed in the middle third of the game. A greater amount of recognition however has to go to Mossley for withstanding the pressure something that's still a novelty after the house of cards moments from previous seasons.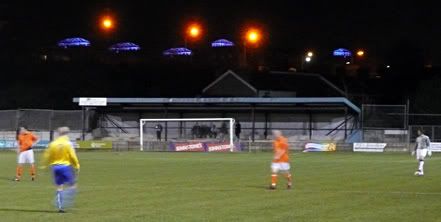 U.f.o.'s over Warrington or a strange new office block?
It's not a bad week then, or if you want to be picky, eight days. We've reached our second semi-final of the season, got a faltering league campaign back on the rails and there have been no reports of ill effects from those who consumed Warrington's, frankly, scary looking curry.
When was the last time anything this positive happened in February with Mossley?
It's just a pity that March is around the corner...