Six – one. Six goals for Colwyn Bay and one for us.
I don't want to come over like Gordon Ottershaw from that infamous episode of Ripping Yarns but six -
flipping
- one!
And speaking of 70's television, at the back end of the decade there was an advert that listed the many successes of Welsh industry which ended with the phrase "Made in Wales" being sung to the tune of Bread of Heaven.
A few years later as those self same businesses closed down at twice the speed Concorde was crossing the Atlantic in, Not The Nine O' Clock News spoofed the ad by changing just one word. And it's that male voice choir from the BBC programme singing "Failed in Wales" that played over and over in my head as Mossley scraped themselves across the bottom of the barrel in Cymru.
To say that the result and performance came as something of a shock would be understating things just as a tad. And unlike a fair proportion of the Mossley supporters in attendance I had to watch it stone cold sober.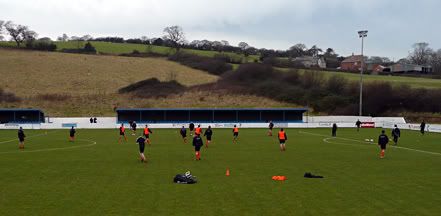 Mossley in the pre-match warm-up. It was all down hill from here.
With Mossley having failed to register a home win in the league since October, their ambitions of occupying a play-off spot come the end of the season have been kept alive by their performances away from Seel Park.
So with this in mind there was a certain amount of hope that away from the relative 'comforts' of home for the first time in the league in 2009, Mossley would register their first victory since Boxing Day.
As the saying goes though "all good things must come to an end" and the Lilywhites four match winning streak 'on the road' did so in a frighteningly embarrassing fashion in North Wales.
The damage was mainly done within the space of five first half minutes. Lee Canning was given the time and space to head home a free-kick on the edge the six yard box and Rob Hopley took advantage of some similarly slack marking to double Bay's lead following yet another set piece.
Two quickly became three as less than a minute after Hopley's strike the Mossley defence parted like the Red Sea allegedly did for Moses and Canning was gifted the opportunity to notch his second goal of the game.
It's a dull photo but it breaks up the text.
With over three quarters of the match still remaining it's fair to say that things looked a trifle ominous for the visitors. Fortunately some horrendous misses and over elaboration by Bay meant that there was no change to the scoreline by the time the interval arrived.
It allowed hopes of an unlikely comeback to be raised just after the start of the second period when Michael Fish pulled a goal back for the Lilywhites from the penalty spot. The faint optimism it generated was soon dashed however as Mossley conspired to concede two more goals in quick succession.
Bay's fourth was tapped in from close range by Edwards after the visitors had somehow managed to turn a situation in which they were under no apparent danger into one that finished with an opponent standing in front of an open net with the ball at his feet. Such was the ridiculous nature of the goal that it's impossible to describe precisely what happened without the aid of a series of diagrams – each one increasingly more absurd than the last.
Its status as the most ludicrous goal Mossley have conceded in recent memory however was sadly to be a short lived one. Just three minutes later a breakdown in communication between Simon Wood and Andy Robertson ended with the former tapping the ball through the latter's legs as he bent down to collect Bay fullback Aspinall's over hit pass on the edge of his box.
And as it rolled slowly into the net I wouldn't be surprised if the collective sound of travelling supporters palms slapping their foreheads could have been heard back in Mossley.
Just when it looked like we might escape the ignominy of conceding a sixth, Garside wrapped up the scoring in the 87th minute with what comfortably the best goal of the afternoon; the Bay substitute finishing a fluid move by half-volleying an effort from twenty yards beyond the reach of Robertson.
Of course a fluid movement could be used to describe Mossley's contribution to this game but I have far too much respect for you to bring the 'd' word into this report, and nothing at all to do with the fact that I can't spell it properly.
Admittedly Mossley's task wasn't helped by the loss through injury of three of their more consistent performers in recent months but that can hardly be used as an excuse for what transpired. It may be common for one or two players to have an off day but for all but a couple to have one is extraordinary.
That said it's hard not to wonder how different things might have been had a looping effort from Fish in the third minute not been acrobatically headed off the line by Graham Branch, or if they'd taken just one of the other opportunities that presented themselves – the Lilywhites having created just as many chances as their hosts did.
Still, losing by six goals to one can hardly be classed as unlucky and hopefully some of the harsh lessons learnt in this game will stand them in good stead for reclaiming the ground they've lost on the other teams chasing a play-off spot.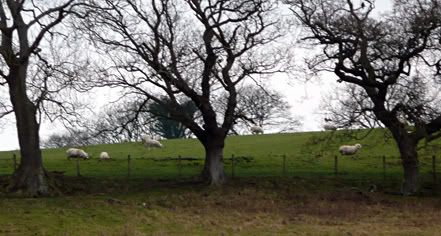 The scenery was far better than the match.
I could go on like I usually do, proffering my opinions on as to why I think things happened as they did but in all honesty I don't want to spend more time than I have to revisiting this game.
The result may well turn out to be an aberration (at least I hope it does) but it will always be one that invokes a nervous twitch in those who saw it whenever it's mentioned in the future
So for the sanity of those of us who had the misfortune to attend, we'd be very grateful if those of you who didn't forgot it ever happened. Please don't turn up at the next match and ask "did you go?" The answer may well offend or bring about an uncontrollable rage.
Apologies for repeating myself so soon too when I say:
Mossley80 - Going to places so that you can be thankful you didn't.