And so Mossley's season becomes even more congested.
The last traces of the recent spell of bad weather lingered long enough in the north east for the Lilywhites scheduled game at Newcastle Blue Star to be called off and increase the fixture pile-up they're facing in the final two months of the season.
To be honest though, even if Mossley had played out ninety minutes at Kingston Park you still wouldn't be reading about it on here.
For a multitude of reasons I'm not going to bother explaining here, unless it's a title decider or a very important cup match there's no way I'm going to be making my way up the A1 to Newcastle or Durham - be it this or any other season.
With this in mind I was expecting to sate my need to watch a game of football by making another trip to Lambeth Grove, this time to watch Woodley take on Lancaster. But thanks to the same wintery weather the blighted the chances of Mossley's game taking place, another possible destination arose: Salford City vs Durham City.
This fixture had been originally scheduled to take place on Durham's all weather surface but as we all know at Mossley, that wonder of modern technology doesn't quite live up to its title in the north east, so the match was switched at very short notice to Salford. And it showed.
All credit to the Ammies for agreeing to the swap but in doing so they must have lost out on a fair bit of income. There were no programmes, a lot of the regular supporters were missing and the whole thing had an air of a hastily arranged friendly.
It was a theme that permeated the first half too as both sides looked to be doing nothing more than going through the motions. Only once did the
boredom
deadlock look like being broken but a free header on the edge of the six yard box was dealt with comfortably by the Salford keeper.
Thankfully second half was a touch better, due in small part to the visitors taking the lead out of the blue in the 52nd minute. It may have been the only goal of the game but it was one worthy of winning better matches than this - Shaun Bell hitting a thirty yard shot that arrowed into the top corner of the net.
Like their match in midweek though against Colwyn Bay, going a goal behind seemed to transform Salford and they hammered away at Durham's defence like men possessed. And in further echoes of their previous game, the referee turned out to be their hardest opponent.
Not least when the man in the middle waved play on after Salford's centre forward had been
Schumachered
(Toni not Michael) by the Durham keeper on the edge of the box as he took the ball past him. It was an horrendous challenge and if something like that isn't going to get punished, the chances of being awarded a free-kick for handballs and tackles from behind in a similar area are going to be even more remote. And that's precisely what happened with Durham's less than comfortable looking back line getting a helping hand from the man in black.
To their credit though Salford continued to pound away but with time almost up Durham were awarded a very soft penalty and given the chance to make the score line a very flattering one.
The spot kick however was brilliantly saved though and the counter attack Salford launched from it which was brought to a shuddering halt on the halfway line when Durham's number six hacked Jamie Tandy to the ground. It was one of the most cynical tackles you're ever likely to see on a football field and rightly had the referee waving the red card before the offender had even picked himself up off the ground.
What followed can only be classed as a 'free for all' as both sets of players indulged in a prolonged bout of fisticuffs which, rather amazingly, ended with just one yellow card being shown. And with that the game ended.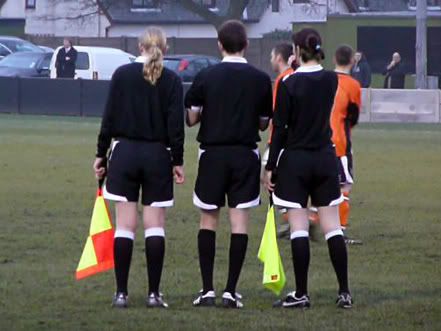 The officials discuss the late meeting between chins and fists.
Unlike those who made what turned out to be an ultimately forlorn trip to the Archibald Stadium back in December, this was the first time I've seen Durham play this season, and while you shouldn't judge teams on the basis of one game, I wasn't particularly impressed with them.
For a side who are favourites for promotion there was little, if anything, that made them stand out from the rest of the teams in the league. The one noticeable trait they had is an unfortunate one that's also shared by another club in the league - Skelmersdale and their compunction to scream or fall over claiming a foul at every opportunity. It's unbefitting of any club let alone one hoping to claim a league title.
As for Salford - you've got to have some sympathy for them. Twice in the course of five days they finished a game without getting the point they at least deserved and look increasingly like being the side who'll be waving goodbye to the Unibond North as they fall through the trap door at the end of the season.
It's a shame really as this, their third different squad of the season actually looks like a side capable of doing something in the league. And more annoyingly Mossley still remain the only side they've beaten in the league.
Anyhoo, the weather forecast suggests that the game due to take place at Seel Park on Tuesday night will actually go ahead. How much of a game it will turn out to be though is another matter as a win for either Mossley or Retford will only add another unwanted match to the upcoming fixture chaos, So be prepared for a long night as both sides could be trying their best to avoid winning.