Football can be a cruel game at times as Mossley found out to their cost at Wakefield's windswept College Grove ground.
The White Rose county hasn't been a particularly happy hunting ground for the Lilywhites on their travels this season: a solitary draw being their best result in six games on Yorkshire soil. And it's a statistic that failed to improve after their latest trip across the Pennines.
Not that it wasn't for the want of trying as Mossley produced some of their best attacking football for months but the long standing problem of failing to make their dominance count was to once again prove costly.
Still searching for their first win of 2008, Mossley lined up with an attacking 4-3-3 formation (or if you want to look at it with a more conservative eye, a 4-5-1) but the biggest surprise was the inclusion of Adam Morning - the former Manchester City youngster making a return to the club after leaving in the summer of 2006.
As has been often the case in their current win less run, the Lilywhites exerted an enormous amount of pressure on their opponents in the opening stages of the game but with little in the way of shots on goal to show for it. However, after Lee Blackshaw and Wakefield's Jay Sobers had traded long range shots that gave both keepers cause for concern, it was the formers side that upped the ante.
Ashley Connor deals with a rare moment of worry in the first half.
Chances soon turned from a trickle to a stream as Blackshaw and Adam Morning, both players continually swapping wings, began to torment and open up a home defence that soon discovered the best way to stop them was to foul them. Well it was on the occasions that they weren't left sitting on their backsides wondering how a tangerine blur had tied their legs in a knot. However, Andy Woods in the Wakefield goal was proving to be more than a match for anything that Mossley could throw at him.
At least he was until the 33rd minute when he was left flapping at the Yorkshire air as Morning's in swinging corner sailed over both his hands and the goal line to give the visitors the lead. For the remainder of the half Mossley continued to press forward in an attempt to not only double their advantage, but give the score line a more accurate reflection of the balance of play. Unfortunately though that second goal was to remain elusive
Despite the best efforts of ex-Lilywhite Will Ryder, Adam Morning's corner crosses the line.
Or...
You can watch it 'as it happened' below as Mossley80 finally embraces the multimedia age by putting match footage on YouTube:
As football clichés go, 'a game of two halves' is a particularly hackneyed one but one that sums up this match perfectly. If the first period belonged to Mossley, the second most definitely belonged to their hosts.
Two minutes after the restart Sobers outlined his sides intentions by evading a series of challenges before unleashing a thunderous shot that cannoned back off the goal frame. Mossley's response was their two best (and only) opportunities of the second period and both came within a split second of each other; Lee Blackshaw having an effort headed off the line and Dean Johnson half-volleying the clearance narrowly wide of the right hand upright. Other than that the Lilywhites had little else to show for the amount of possession they held around the box.
Yes! Another video! This time its those two near misses in the second half:
The longer the half wore on the more Wakefield's better levels of fitness began to tell and after playing second fiddle for a little under an hour, the home midfield began to control the game, Sobers in particular playing a huge role in proceedings; instigating the majority of the home sides attacks and having a role in both of his sides goals. The first coming in the 65th minute when Chris Howarth looped a left wing cross over Ashley Connor from close range.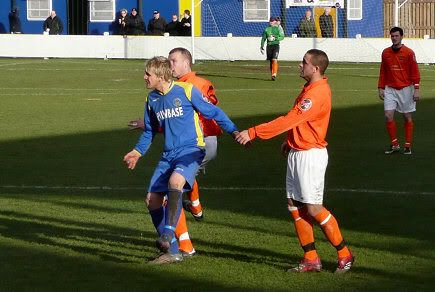 Wakefield proceeded to squander a succession of chances through a mixture of their own ineptness at finishing and some good Mossley defending, it looked as though the Lilywhites had done enough to earn themselves their first point on their travels for three months. Especially when substitute Ferguson fired tamely wide from a very good position in the 90th minute. Unfortunately it wasn't to be the last chance.
Deep into injury time and with the full-time whistle only seconds away, the Lilywhites conceded a soft free-kick midway in their own half. Sobers fired the dead ball towards the back post where centre half Wes Milnes directed it past Ashley Connor to give the home side victory with virtually the last touch of the game.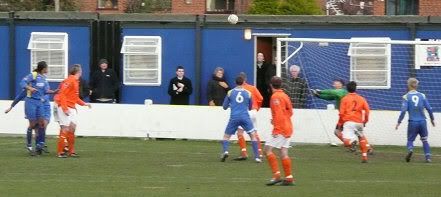 Wakefield's last touch of the match heads towards the net.
If you were to look at the game from a negative point of view, the failure to create more than a handful of
good
goalscoring opportunities that made the opposing keeper stretch himself a bit is a problem that refuses to go away.
However, it's from a positive perspective that I choose to reflect on this game (not bad for a long time pessimist, eh?). Every player in a Mossley shirt gave their all and there was enough evidence to suggest that there's a corner ahead which we're going to turn soon. In fact for the first time in 2008 I came away from a game feeling incredibly optimistic.
And should an enormous financial windfall ever befall me, I promise to build a hockey pitch by the side of Seel Park. Not only is it a good game to watch (it's football but with sticks) but there's money to be had from charging Mossley's dirty mac brigade a small fee to watch it!
At the end of the day, whilst it's hard not to feel despondent at such a late, late defeat, I think everyone can take a lot of heart from this performance, the Lilywhites best for some considerable time. Now we've got to see if we can repeat it against Bridlington and Chorley in what is going to be an important week in Mossley's season.