From the back page of this weeks Reporter
(27-03-2008)
: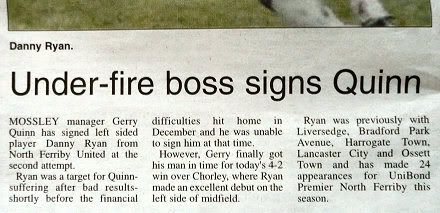 Number of quotes in the article about Gerry Quinn being 'under fire':
0
Number of other things in the piece to back up the 'under fire' headline:
0
And I'm sure that you don't need me to point out the other error in the heading either.
As we all know Mossley's attendances are currently, how shall I put it, getting perilously close to being double Woodley's. There are various thoughts bouncing around as to how to get those numbers up again such as advertising, ground improvements and even winning matches. One thing that hasn't been considered though is running an event along side the match, such as the one being undertaken in Oldham this coming weekend. From tonights Oldham Chronicle
(27-03-2008)
:
Sex health check at Boundary Park

SPORTING stars are helping tackle sexual health problems in Oldham.

Football and rugby players are throwing their weight behind a new sexual health campaign taking place at this weekend's fixtures.

It will see players and their supporters aged between 16 and 24 invited to have a sexual health check-up.

The innovative campaign is part of the RU Clear? chlamydia screening programme, which encourages under-25s to be tested for the sexually transmitted infection.
How embarrassing is that? Going to watch Oldham Athletic.
Only now there's the added attraction of possibly getting an appointment at the clap clinic before you take your seat. Obviously they'll have to put some sort of disposable cover over it first.
And how many times do you think someone will ask what numbered shirt their new French signing Chlamydia is wearing?
Still, it will be fun spotting which players didn't get the "all clear." I'm guessing that they'll be ones celebrating any goals they may score by themselves.