Frasier. Christmas when you're a kid (and holiday's when your older). A bag of slightly burnt salt and vinegar crisp. Mossley's six game winning streak.
At face value all are seemingly disparate but they share one thing in common – good things that come to an end.
And while it's true that all good things must do so, there must be better ends than the one Mossley produced at Salford to not only finish their interest in the League Cup but that aforementioned sequence of results as well. Not only was it a disappointing though, it was a controversial too.
Despite Mossley having two goals disallowed for offside there was no one inside Moor Lane who would have begrudged Salford their two goal lead at the break. In a complete turnaround from recent matches, Mossley looked sluggish and disjointed as they struggled to impose themselves on the game; there was more than one player in an orange shirt having what can charitably be described as an off day.
That's not to take anything away Salford though. They played some good football, particularly in the first half when they were knocking the ball around with an abandon that had been missing in the game between the two sides ten days earlier. The biggest thorn in Mossley's side was City right winger Forrester whose pace and power caused Mossley no end of problems all night.
Salford's opener was a text book example of counter attacking football. Four passes and eighteen seconds after a Mossley foray had come to disappointing and limp conclusion on the edge of the Salford box, Dwyer was placing the ball past Higginbotham.
Rather than a fine example of great teamwork or a moment of individual brilliance, Salford's second goal was down to some poor defending by the visitors; Mossley allowing Barry Massey to head home a corner with relative ease eight minutes before the break.
A reshuffling of the Mossley ranks at half-time saw them finally get a grip on the game but in and around the opposition box where they've been so strong all season, they struggled to fashion any openings of note. The one exception being a shot from substitute Dignan that was blocked on the line following a good solo run.
It was Dignan as well who featured in three incidents which clouded the game from a Mossley perspective and gave the game its controversial edge. His pace was causing the Salford defence no end of problems and twice he was pulled and hacked to the ground to the box after beating his marker, only for the referee to wave play on; on the second occasion his decision even seemed to catch the home team surprise as they stopped in their tracks under the expectation that a spot kick was to be awarded.
If the defence for the non-awarding of a penalty after these two moments was that there was an element of doubt (which is difficult to believe), there could have been none whatsoever for the third incident; one that could have had big repercussions for Mossley's season.
Danny Dignan had used his pace to take himself past Bellamy, get to the touchline and play the ball across the face of goal when the Salford defender took the Mossley forward clean out. It was a bad challenge which subsequently led to Dignan receiving lengthy treatment before being stretchered back to the changing rooms. Amazingly (though maybe not that much after the previous decisions) the "tackle" was deemed perfectly legal by the referee who trotted back towards the halfway line with a line of understandably irate Mossley players in his wake and a host of comments being aimed towards him from the sidelines.
It's at times like this when just pointing to the video would be easier but as we're currently falling foul of the one rule for one law operated by the league, you're going to have to make do with stills of
that
tackle: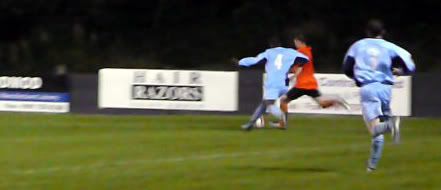 Dignan gets past the Salford defender and prepares to cross.
This is the moment Dignan makes contact with the ball.
And this is the moment the Salford defender makes contact with Dignan. As you can see, in no way at all was this a penalty...
I'm loathe to criticise officials because they have a difficult and thankless job to do and, importantly, they very rarely tend to lose teams games. In regards to the latter point this game wasn't the exception that disproved the rule, Mossley weren't good and were beaten in the first half by a team visibly more 'up for it'.
The officials do however deserve all the criticism they get for some truly awful decisions in this match. Even ignoring the questionable nature of the judgements which ruled two first half goals by Mossley narrowly out for offside, the fact that the game was allowed to get to a point where players were throwing themselves into wild challenges knowing full well that they were likely to receive no punishment for it was disturbing.
Fortunately the latest news is that the injury Dignan suffered isn't as bad as initially feared, and it's safe to say that those initial fears were
very
bad. It doesn't however make the fact that the challenge and perpetrator went unpunished any more palatable. This isn't a rant because we lost the game, it's a rant because we nearly lost a good player for a lengthy period of time through the inactions of match officials who refused to curb the incidents that built up to this moment. And because they saw nothing wrong with a poor, late tackle that could easily have seen an ambulance wending its way to the ground.
There's an argument that in the long run this defeat may do Mossley the world of good, ridding of them of any complacency that may have set in after the impressive run of results they've put together. It's not one I subscribe to myself but it will be interesting to see the sides reaction to this reversal in the next match as it will tell us a lot about the character of the team.
In the end it could have been a whole lot worse, in more ways than one too, so as small mercies go it's better to to put in a performance like this in one of the minor competitions than save them for those that
really
matter.