According to the 1959 film version of Ben Hur, the death of Jesus on the cross was accompanied by a great storm that, amongst many other things, cleansed lepers sheltering in the vicinity of Calvary of their debilitating disease.
Unfortunately the heavy and torrential rain that swept across Seel Park this Good Friday didn't have the same healing qualities and, as a consequence, couldn't stop Mossley from falling apart in grim fashion.
That's right, I've started the report with a gag about leprosy - another world first for football and Mossley80.
I say grim but if you were a Colwyn Bay fan or a neutral it was absolutely hilarious as Comic Relief came to Mossley four Friday's too late.
The adage goes that those who don't learn from history are doomed to repeat it and it's a lesson that, not for the first time, Mossley learnt to their cost.
On their way to a 6 – 1 win in the corresponding fixture between the two sides on the North Wales coast back in January, Colwyn Bay had raced into a three goal lead within the first twenty five minutes of the match through a combination of good attacking football and some hysterically awful defending by the visitors; the latter only surpassed in the following half by goals conceded through moments of slapstick even Buster Keaton could never have dreamt up.
The location and weather might have been different but two and a half months on it was exactly the same story.
The only difference was that the match was only five minutes old when the wackiness began. To use some baseball terminology, keeper James Mann took a "swing and and a miss" at Nick Boothby's back pass which allowed Rob Hopley the chance to help the ball over a slowly submerging goal line to give Bay the lead.
Mann more than atoned for his lapse by pulling off a string of good saves to keep Mossley in the game but he could do little to stop the Seagulls from doubling their lead. A slip on the halfway line by Simon Wood gifted the ball to Eddie Jebb who, after making his way unchallenged to the edge of the box, played a sweeping pass across the penalty area that ran perfectly into the path of Hopley who finished clinically from eight yards out.
The third goal arrived a minute later when Tim Brandreth, probably Bay's most dangerous threat at set-pieces, was allowed to head home a corner a completely unmarked (like it is for Manchester City, defending corners appears to be a concept alien to us) and in doing so effectively won the game with just under three quarters of it still left to play.
That's not to say that Mossley didn't have chances of their own in the first forty five minutes. Things might have been different had efforts from Lee Blackshaw and Michael Fish, which sandwiched Hopley's opening goal, not been headed wide of the uprights; opportunities which at the very least should have forced Bay keeper Chris Sanna to sweat to little.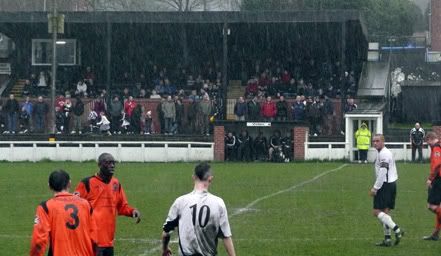 With the contest, bar the the laughing, pointing and eye-rolling, effectively over the second half was for the most part nothing more than a clock watching exercise for all involved.
A series of substitutions eventually saw Mossley regain a bit of fighting spirit and after Leon Henry had shot narrowly over the angle of post and crossbar, a forceful run from another of the replacements was rewarded when Ben Richardson's long range shot took a deflection off a Bay defender that looped it over the under worked Sanna and into the net.
The foundations for a dramatic late comeback however weren't built on and the Lilywhites penultimate home fixture of the season, like far too many since the start of 2009, ended in a demoralising and deserved defeat.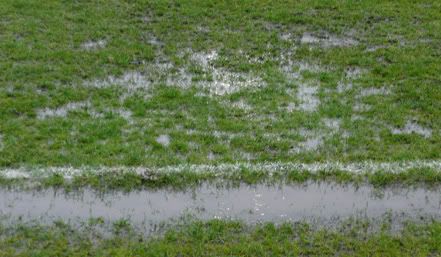 What amazes me though is some Mossley supporters refusal to trust what they're seeing with their own eyes. According to some, because Colwyn Bay went three up with a heavy and generous helping hand from ourselves, they weren't very good. If they weren't very good whereabouts on the scale does that place us?
Yes, we were complicit in our own downfall but Colwyn Bay made mistakes as well - the difference was that they punished us for ours, we let them breathe a sigh of relief. And for all their 'luck' in building up an unassailable lead, there was a certain amount of it that stopped us from being more than only three goals down by the midway stage of the first half when it could have been a whole lot worse.
League tables don't lie, especially at this stage of the season, and in lying third in it Colwyn Bay must be a good side. They're a team we should be aspiring to emulate – not dismissing as fortune riding chancers. And now that's out of my system, onto other rants...
A common phrase uttered on the terraces as the match progressed was "I don't mind losing but..." and it's a but which I've mentioned often on this blog. I realise we have injuries, suspensions, we're building for next season, etc. but it doesn't make performances like this acceptable. Notice I said performances and not results.
Losing is part and parcel of football but they're palatable if you can leave the ground thinking 'at least we gave it a go'. That didn't happen after this game which is what makes the afternoon, if it's possible, all the more disappointing.
If I wanted to keep the religious metaphors going I could say that, in keeping with this particular time of the year, hopefully Mossley will hopefully rise again in a few days time when we face Radcliffe Borough.
I could but I won't as did exactly the same thing twelve months ago in the report for our Good Friday defeat at Bradford Park Avenue and as the few regular readers of this blog will know, I already repeat myself far too often.
Plus we didn't so much rise from the dead back then but start putrefying in a 3-1 defeat at home to Rossendale United on the Bank Holiday Monday.
Still, if our win-lose series of results is going to continue for the foreseeable future we should be leaving Stainton Park in a few days reasonably happy. And I am fully aware that last sentence come back to haunt me.
In all honesty I didn't expect us to win this game. I did think however that we wouldn't have made it quite as easy and as humorous as we did for Colwyn Bay but that's Mossley for you in a nutshell: confounding expectations since 1903.