It's amazing how often things that initially seem like good ideas generally aren't. New Coke, the last three Only Fools and Horses specials and my decision to attend the Curzon – Durham game are just some of the examples that bare this out.
On the face of it, a meeting between the Unibond First Division North league leaders and one of the form teams in search of a play-off spot had all the makings of being a great game. In reality it was anything but.
To give you some idea of just how faraway it was from reaching the heights I thought it may attain, I got into the match for free and still felt ripped off!
A dull first half was briefly enlivened by Curzon hitting the crossbar as it drew to a close, but the one highlight of the opening period was Gary Lowe being sent to the stand from touchline; the Curzon manager discovering to his cost just what happens when a referee with a bit of bottle turns up at the Tameside Stadium and refuses to tolerate his usual touchline theatrics.
Shortly after the restart, and out of the blue, Curzon took the lead and with Durham offering nothing at all as an attacking threat it was practically game over. A situation which meant that what time there was left passed interminably. Never before has half an hour felt so much like five years. Apart, of course, from the last time I saw a full episode of My Family.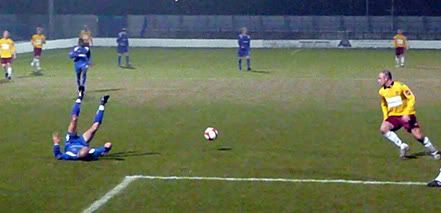 The match summed up in one picture.
The most interesting thing about the night though was the praise poured out over the p.a. system prior to the match on 'Curzon Youth'; a gang of around fifty kids aged between 11-15 who outwardly seemed to share the same lovable qualities as those other organisations for people in their formative years such as the Young Conservatives and the Hitler Youth.
Ignoring the issue as to whether this "wonderful support" would have been there had they not had free tickets, their presence did raise an interesting paradox.
Over the years Curzon's aged support have lambasted Mossley's for their colourful language but now you have the Ashton club officially lauding a group of school kids for what was almost an unending stream of obscenities. And for a club that prides itself on being family and community orientated, why seemingly actively encourage something that's the opposite of just that?
It was interesting to note as well that their presence made the stand opposite the tunnel, where they were stood, a no-go area for other supporters too. The regulars who normally position themselves there taking up other spots within the ground and it was not hard to see why.
While it's good to see an attempt to attract new and young support to non-league football, I have a feeling that one day, instead of patting themselves on the back for increasing their gates, Curzon may be left to bemoan the monster they've created.
Maybe they'll disappear when the free tickets do but if I was an official at the Tameside Stadium I'd be very wary at inflating their egos.
And before somebody thinks of mentioning it, this piece has nothing to do with the fact that nearly every chant (practically all direct lifts from the Old Trafford songbook) contained something anti-Mossley. If anything it's nice to know that Curzon are obsessed with all things Seel Park while they mean next to nothing to us.