Even before this seasons fixtures were announced way back in the summer, the trip up to Durham (along with the similar one to Newcastle) to see Mossley play was one I was never going to make.
And as much as I hate missing matches in which the Lilywhites are playing, I hate the effects a six hour round trip in a car has on my back more, especially at this time of the year.
It was a situation which meant scouring the fixture lists for another game to fill a blank Saturday with and thanks to the frosty weather, the options were a touch limited.
When in doubt though Woodley's always the best place to head as any game scheduled to take place there is likely to be on; Lambeth Grove's artificial grass pitch continuing to live up to the 'all weather' claim on the packaging it came in. Unlike Durham's supposedly similar surface which appears to have all the properties of the plastic grass you find on greengrocers shelves.
And for more on the ridiculous state of affairs that transpired on Mossley's trip to the north-east, read my previous post or, even better still, Smiffy's
Woodley's opponents were Curzon Ashton and their opponents won 3 – 0. A score line which if truth be told flattered the men from the Tameside Stadium slightly.
Curzon went into an an early two goal lead through two penalties - one for a foul in the box and the other for a tackle that, according to the Mossley fans in line with it at that end of the ground, took place well outside the area. The referee being one of those official who, like the man in the middle we had at Halifax, believes a foul should be given from where the player lands and not where the offence took place - even if it did involve a three to four yard leap.
Both penalties were won by Curzon's left back Whelan and to be honest, if it wasn't for him and his team mate Russell at right back, it's doubtful Curzon would have mustered anything approaching an attack in this match. Maybe they've still got a hangover from their recent FA Cup exploits but apart from the aforementioned players they looked devoid of ideas and urgency. Sadly it's a state of affairs I expect they'll have recovered from come Christmas when they face us twice.
The third goal came in open play and, unsurprisingly, was set up through another long run by Whelan and finished superbly at the back post by Russell.
The second half was, for want of a better word, moribund (and as far from the 'end-to-end' description it mysteriously got in the Non-League Paper report as you're ever likely to get) and made exponentially more miserable by the news filtering in from Durham. The joy and shock that had greeted Mossley's four goal lead giving way to bitter disappointment and fledgling conspiracy theories as word of the abandonment came.
Back in the outer reaches of Stockport, neither side showed much in the way of fight in the second period until late on when Woodley found a higher gear. And if I tell you that the gear they found was first, it may give you some idea to how bad the half was.
If Woodley had a half decent strike force they may have actually gone close to getting something from the game in those final stages. They didn't though and in the end had to settle for a late penalty award of their own which Adam Morning made a right pigs ear of taking. Hence the the 0 next to Woodley's name in the heading to this post.
I had a 'stills' day with my camera for this game and the few that turned out 3.76% decent can be viewed by clicking the following link: Woodley vs Curzon
Other points of interest. Woodley's ex-Mossley contingent continues to keep on growing. Along with Gavin Salmon, Adam Morning and Russell Headley there's now...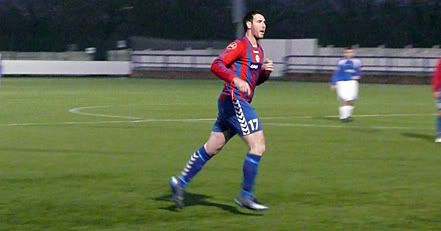 Yes, Mark Phillips. Making his return to non-league football after a two year absence.
Perhaps the most surprising thing on the day, besides the news that filtered through from the north-east, was that the crowd for this game was 16 more than the one for the fixture against us a fortnight ago
despite
there looking to be half as many people in the ground.
Obviously there's no telling how many people had taken up shelter in the bar from the weather and the poor fare on offer on the pitch, but it must have been packed to the rafters in order for 140 people to have been counted in for this game.
What few people there were on the terraces were like us: supporters desperate for a game of football to watch. There were also a good number of 'ground hoppers' too, that strange and small group of people who go to grounds to say they've been rather than watch the football. As one much missed football publication put it in the past, "(they're) train-spotters who've run out of trains."
You get the impression they'd be far happier if the players never came out as not only does it spoil the view of the dugouts, it makes it more difficult to take pictures of the pitch perimeter fixings.
How do I know they were ground hoppers? Well the satchel bag slung across one shoulder, a notebook constantly being scribbled in and two match programmes (one to write in and the other, like Laura Palmer, wrapped in plastic) were a give away. As was there need to fill us in on the minutiae of their recent expeditions across the north west.
If I get chance before Christmas I'll endeavour to put on the blog a couple of things from the publication I mentioned earlier because a) it deserves a new and wider audience and b) it's far funnier than something an infinite number of me's with the same amount of typewriters could come up with.
Hopefully a better match
and
a full ninety minutes will be adequate compensation for this weekend on Tuesday when Mossley journey to Chorley for the President's cup.