If you're wondering where the report on the Mossley - Wakefield game is, there isn't one!
For the fourth time in a little over two weeks a match involving Lilywhites has fallen foul of the weather. And such is Mossley's desire to be contrary and stand out from the crowd that while games up and down the country were being called off due to waterlogged surfaces, no game took place at Seel Park because it was frozen solid.
It was a situation that meant another Saturday morning was spent looking around the internet for other local games that were on and armed with the information that there was no danger of the match at the Tameside Stadium being called off, the desperate need for a fix of football meant that for the second successive week it would be Curzon Ashton that filled the void. Proving once and for all that addiction has its down side.
Initially it did look like we might about to witness a shock result as Chorley ran the home near ragged over the course of the opening half hour; a fact studiously ignored in the report in the Non-League Paper. Unfortunately the chances that presented themselves were wasted and former Lilywhite Jordan Goodeve was probably the biggest culprit. Twice he chose the wrong option in who to play the ball to when yellow shirts outnumbered the blue ones in attack before spurning a golden opportunity to edge the Magpies ahead by side footing the ball over the bar from ten yards.
The seeds for their downfall were sown though when more and more of their players began to venture forward in search of the goal they deserved. The ambition is one that in some way should be applauded but the consequence was that they were now short on numbers at the back and it was through exploiting this flaw in Chorley's game plan that Curzon opened the scoring.
That's not to say it wasn't unavoidable. The low cross from the right wing that set up the goal should have been cleared on at least two occasions as it rolled across the penalty area but the defence's Can-Can like attempts at doing so allowed the ball to trickle through to an unmarked Barker who promptly stuck it in the net.
It may only have been one goal but with it Chorley simply fell apart. Curzon's, and Barker's, second was not long in coming and once again was the result of some really awful defending. Like the first goal it was another low cross from the right that did the damage but on this occasion nearly every single one of the ten visiting players packed into their own box made a hash of clearing their lines before it reached Barker's feet.
Within minutes of the start of the second half Curzon had doubled the lead. And whereas their opening two goals were the result of a catalogue of errors from the Magpies, the third and fourth were something else altogether - a fantastic strike apiece from Ogoo and Whelan following some quick and incisive build-up play. If you can, try and see them on Channel M's football show next Friday because they are worth watching.
The home side had another goal ruled out for offside but other than that not much else happened until the closing minutes when, with Curzon metaphorically in their slippers and sipping brandy in front of an open fire, Chorley grabbed a consolation goal. It was a very good goal too but way too little, far too late.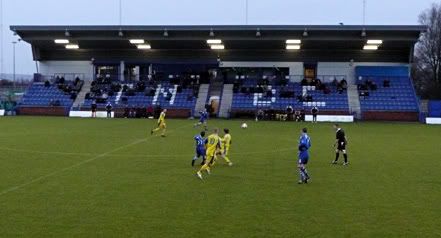 You may have noticed that Michael Norton's name hasn't cropped up at all in the report until ten words ago and there's a good reason for that - he was virtually anonymous. Much as he was against Woodley seven days earlier other than for his two goals from the penalty spot.
Now I'm in no doubt that when Mossley turn up on Boxing Day he'll be back to performing his usual shenanigans against us but having seen Curzon's last two games his mind looks elsewhere at the moment. There has been a rumour doing the rounds that he's on his way to Tranmere Rovers in January and quite a few Curzon fans we spoke to certainly seem to be under the impression that it isn't a rumour but something that's done and dusted) so there's a chance he's a touch pre-occupied with that.
From a purely Mossley perspective, while both sides offer a considerable threat there was enough evidence of weaknesses in the two of them to instil a bit of confidence that we can get something out of the games against them in the upcoming weeks. It's a confidence that will undoubtedly evaporate in me as the matches draw nearer but for the first time in a while it is actually there.
From a neutral perspective however, I wish I'd stopped at home and saved my money.