Throughout the friendlies literally no-one has come up to me and asked who I thought would be challenging for honours and who'd be fighting against the drop in the Unibond First Division North this season.
It's a situation I'm happy about though as not only do I hate making predictions, I'm useless at them as well. Sat at work with nothing to do though I began to think about how Mossley would do in the upcoming campaign and as a consequence, how the other teams would fare.
I started to jot down whereabouts in the league I thought teams will be come April and within the space of a minute or two (admittedly not that much thought went into) I had the following list. Instead of pinpointing actual finishing positions, which is a bit too anally retentive, I've split the league into five categories.
Please note that the order in which the teams appear in each category is completely random
Promotion contenders:
Durham City, Halifax Town, Skelmersdale United, Colwyn Bay, Clitheroe, Trafford
Near missers:
Curzon Ashton, Newcastle Blue Star, Bamber Bridge
Mid-tablers:
Lancaster City, Ossett Albion, Wakefield, Chorley
Safely unrelegated:
Garforth Town, Harrogate Railway Athletic, Rossendale United, Woodley Sports
Rock bottom:
Radcliffe Borough, Warrington Town, Salford City
The eagle-eyed amongst you will notice that one team is missing.
Where you think the Lilywhites will finish is a question of how -istic you want to be.
If you were optimistic you'd probably see Mossley placed in the promotion contenders/near-missers groupings come the end of the season. The performances in the home friendlies against Stalybridge, Droylsden, and Hyde certainly suggest that we could do well in the league. However, as we're not in the Blue Square North we'll have to adjust our sights accordingly.
Being pessimistic you'll more than likely Mossley finishing in the rock bottom section. And if you were being Stylistic you'd do a little shuffle dance and expect them to make you feel brand new.
Sadly you have to be realistic and being just that I think we're more likely to be closer to the pessimistic outlook than the optimistic one. That's not to say I think we'll be fighting a relegation battle, far from it. I hope we do go on to surprise a lot of people this year but I believe we'll finish in the bottom half of the table, a safe distance away from the relegation dogfight taking place beneath us; a situation which will be a vast improvement on last season.
And to be honest I believe that even the tiniest improvements in league positions is something the majority of supporters would be happy to see. Finishing the campaign one place above where we ended up last year might not be particularly ambitious but if it was achieved, it will be the first step forward the club has made on the pitch for three years. From tiny acorns, etc.
That said a cup run would be nice, even it's only in the Manchester Premier Cup.
Whatever happens though I wish everyone associated with Mossley AFC all the best over the coming eight and a half months. And in regards to the players and management...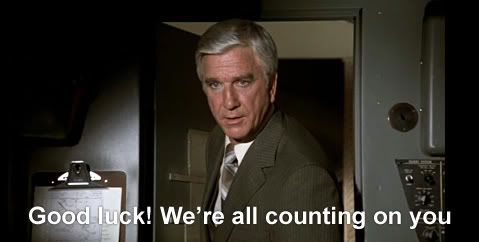 So this is it everyone.
Remove all loose clothing, make sure that all straps and guard rails are securely fastened and keep your hands in the car at all times. But most of all, enjoy the latest run around the track on the white knuckle ride that is Mossley AFC.