The football season hasn't even started yet but the local papers (well, one of them) have all ready hit the ground running.
From this weeks Reporter (07/08/2008):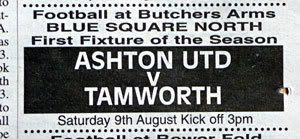 Yes, you may have thought that Ashton United's season was starting next week but in a move that will shock many people, not least those associated with Droylsden who thought they were playing Tamworth this weekend, the Robins have had a very late promotion to the Blue Square North. It's a pity though that after all the work they've done on their ground this summer, they can't play it at Hurst Cross.
Or maybe I'm getting it all wrong and it just another proof reading error.
Then, when you turn over the next page there's this:
Why not? Do they want the answer in bullet points or in the form of an essay?
The fact that seasons tickets are still available suggests that if you come up with the best reason as to "why not", you might not like the prize.
And out of interest, has any non-league club ever sold out of season tickets or reached a point where none are ever available?