The season may be done and dusted for Mossley but non-league football continues unabated in various pockets of Tameside and the surrounding area.
So many games in fact, that it was possible to watch a match everyday between the Monday after the Wakefield game and the following Sunday. At least that was the case if you completely ignore the fact there was none on Thursday and Friday.
All of which meant good news for those Mossley supporters desperate to extend their fix of non-professional football for at least another week.
The week began at Glossop North End's rearranged game with Trafford and what game it was. With nothing to play for and a pitch resembling something you'd expect to see Sébastien Loeb struggling to steer his rally car through rather than anything you'd play football on.
Given both the conditions and that there was nothing for either team to play for (Trafford having already been crowned champions of the NWCL), you'd have forgiven either side if they approached the game at anything less than a 100%. It's to their great credit though that they didn't and in a surface mocking ninety minutes, they produced one of the best matches I've seen this season: no long ball, no quarter given attacking football.
Trafford eventually won the game 2 – 1, a result which was incredibly unfair on Glossop as the least they deserved was a draw. I just wish that the following footage did better service to showing just how good a game it was.
Sadly I have no footage of Glossop's goal but to paint a picture with words, it was a well struck shot from the edge of the area that wouldn't have gone in had it not been for the Trafford keeper's decision to lather his gloves with butter prior to kick-off. Evidence of which can be found in two of the earlier clips in this highlights, YouTube, video package... er, thing:
Passing up the opportunity on Tuesday to journey to Skelmersdale and see Curzon's season finally implode ("Hey Mickey you're so fine, you're so fine you got sent off after 20 minutes for head butting an opponent, thereby ruining the chances of your team being rewarded for their seasons endeavours with promotion to the Unibond Premier League, Hey Mickey
clap-clap clap
Hey Mickey
clap-clap clap
"), the next game to be taken in by the Mossley nomads was the NWCL League Cup Final at the Tameside Stadium on Wednesday.
Five years ago in the same competition we watched Mossley lift the cup after beating Clitheroe in a game that could best be described by simply saying that it happened, such was the paucity of entertainment contained therein.
Thankfully though the 2008 version involving Bootle and Maine Road was slightly more entertaining. Although it very nearly didn't happen, at least not on that night.
When I got to the ground 55 minutes before kick-off the place was shut. Only the faint sound of Silver Lady by David Soul being played over the tannoy giving any indication that there was somebody in.
It was only when the Bootle team arrived and a figure finally emerged from the bowels of the stadium that I, along with the smattering of people who'd turned up after me, eventually found out what was happening: the referee had only just given the game the go ahead. An early evening downpour had put the game in some doubt and when we were finally allowed into the ground it was easy to see why - the pitch was horrendous.
A lot of the markings were forming whitewash puddles along the touchline, whilst at least a good third of the pitch was under differing levels of water. Where sand had been ten days earlier in Curzon's game with Clitheroe, there was now a paddling pool. Goodness knows what it would have had to have been like for the match to be postponed
By kick-off though the drainage had performed something of a miracle and the pitch was in a near playable half grass/ half ankle deep mud state.
Maine Road took an early lead and one which, to be honest, never looked like being pegged back as Bootle offered nothing in the way of a threat. That was until the stroke of half-time when the Liverpool side surprised everyone, not least their own supporters, by scoring from a corner.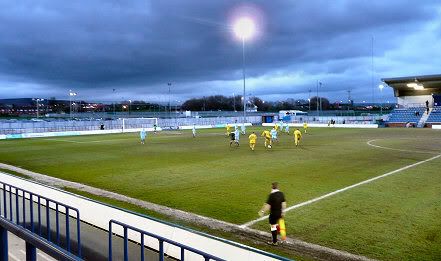 The second half began with Maine Road regaining the advantage before a double substitution by Bootle turned the game on its head and they got a deserved equaliser with fifteen minutes left. Despite the best efforts of both sides, the game went into extra-time and eventually penalties before Maine Road were determined as the winners; condemning Bootle to their second cup final defeat in the space of a week after losing to Kirkham & Wesham in the Division Two Cup.
Unfortunately, as is becoming something of a worrying habit, I missed one of the goals (in this case Maine Road's opener), but at least I got the other three scored in normal time during the NWCL League Cup Final. Bootle are in yellow by the way:
While there were only 201 people present (a fair few of them being neutrals too including a Ramsbottom fan who recognised us from our visits to Riverside Ground years ago and ex-Lilywhite Joe Shaw) the game was played in a friendly atmosphere, free from any animosity. Although it would have been nice if the the father of one of the Bootle officials had stopped moaning at a very good referee for the odd minute or two.
So that's been two good games in the space of a week and now it's up to Stalybridge in the second leg of their Play-Off semi-final on Sunday to make it a hat-trick.