Here we are on the fifth day of January and the chances of any Mossley AFC related match reports appearing on this very blog at some point in the near future are looking, frankly, remote.
Our cup exploits, the mid-December cold snap, the pre-Christmas snow, the New Year cold snap and this weeks snow (the worst I've seen since I was small - well smaller than I am), has left us with a backlog of fixtures to fulfil. And with the likelihood of another huge batch of postponements in the coming weeks, it means that we face the very real possibility of another season in which we're playing three or even four times a week.
This means plenty of midweek games being shoehorned into the fixture list which causes an additional problem for the Lilywhites because of the 'floodlight incident' which happened last week. In case you don't know the lights at Seel Park came down a lot sooner than Twelth Night as the incredibly strong winds we had on December 30th claimed two of the floodlight pylons as victims.
At the moment no-one knows how long this situation will take to be rectified, especially with the ground under a couple of feet of ice crystals, so the possibility of there being anything other than a hectic end to the season is unlikely. Highly so.
But what to write about in the meantime? What do you put on a Mossley AFC related blog when, thanks to the snow, there's nothing Mossley AFC related to write about? One option I suppose is to just post pictures of that snow so guess what?
Having struggled to get to work for twenty to eight this morning, I was on my way home a mere five minutes later as the place was closed down for the day. With no buses and a train service that was running at what best could be described as 'intermittently', there was little option other than to walk home, so what follows are photos taken on that trek. Just click on an image to be taken to a larger version: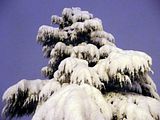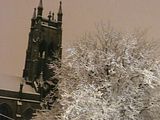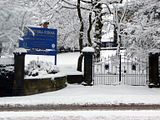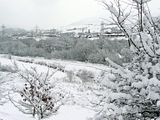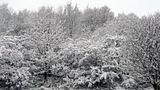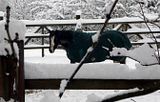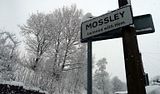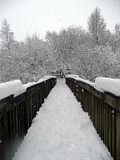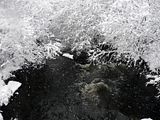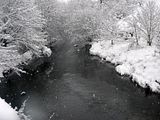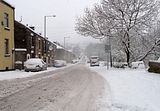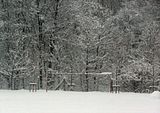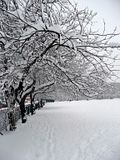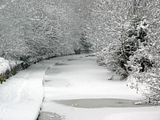 Let's hope there's some football soon to stop more posts like this one, eh?