After four months of waiting (not a second of which, personally speaking, was in eager anticipation) the new football season arrived at Seel Park and it came and went with little in the way of occurence for the match to take up anything more than a fleeting residence in the memories of those who saw it. It was, for want of a better description, an atypical end of season match, only eight months too soon.
That's not to say there weren't some things worthy of commenting on amongst the vast tracts of incident free stretches the game mostly consisted of. Mossley themselves diplayed a high level of energy but much of it was expelled in a wasteful manner as runs went unseen, passes went astray and promising situations came to a sudden halt; problems which meant that the high percentage share of possession the home side enjoyed throughout the match was largely uncapitalised on. Take the first half for example, all the Lilywhites had to show for their efforts was a high and wide shot from Joe Heap, and that only came after the youngster had been put clean through on the Witton goal by a spectacularly ill-advised backpass from the halfway line by an Albion midfielder.
The visitors themselves had hardly set the game alight but they went in at the break with a one goal lead which could possibly have been two if the referee hadn't waved away their appeals for what looked like a nailed-on penalty late on in the half. The one goal they had to their name came in the 25th minute and was the first (and as it turned out, only) shot on target in the opening forty five minutes. For Mossley supporters the manner in which it came had a horrible familiarity to it: a cross to an unmarked player at the far post, a pull back to an equally unattended team mate and shot placed beyond the reach of the goalkeeper. Albion's Danny Andrews applying the finishing touch on this particular occasion.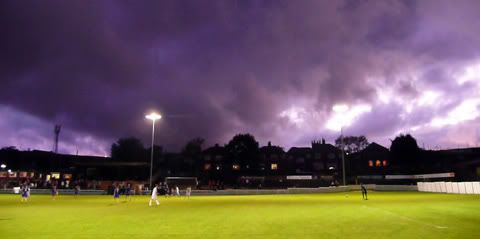 Without word of a lie, so little of interest was happening on the pitch midway
through the second half that the clouds above Seel Park instigated more
conversation on the terraces around me than the match did.
The second half began with the hope of a more dangerous looking home side on the pitch as substitute Tom Murray stabbed a good cross wide from close range but it soon dissipated as Mossley struggled once more to make a presence felt in the attacking third of the pitch. Not that the visitors were troubling the scoreline either. With the amount of time wasting going on, especially by goalkeeper Matthew Cooper, it looked like Witton had settled for a win by a solitary goal but for one brief moment they sprang into a modicum of life and came close to putting the game beyond Mossley's reach. Lilywhites centre half Peter Band was forced into making a goal line clearance to stop Alex Titchiner from doubling the visitors lead and a minute later the home defence could only watch as Liam Newman hammered a shot off the Mossley crossbar.
It took until the 70th minute for Mossley to manage their first shot on target, another three minutes for them to manage their second and a further nine for them to register an effort that could be termed meaningful. And it's this one which drew them level. A mazy run down the right wing by Kayde Coppin looked to have reached a conclusion as defenders converged around him but the former Flixton player somehow dug out an inch perfect cross that found the head of Harry Noon who in turn found the back of the net. As well as rescuing a point for Mossley it gave the match a scoreline which reflected it better. Not because both sides had cancelled one another out but because neither had done enough to win a game that was hardly going to entice any first time terrace occupiers in to making a return visit.
You can't be critical of a new team playing only their second competitive match (not even I'm that much of a grouchy curmudgeon) so I'm not going to detail the numerous 'facepalm' moments which were repeated throughout the course of the game. They are things which can be eradicated with time and hopefully the ironing out of these kinks will mean I never ever get round to mentioning them on here. I know, at times I'm just too optimistic.
I should probably end on a positive so I'll say that the Lilywhites second half performance was a bit better than the one in the preceding period. It wasn't the massive improvement as some have claimed elsewhere on the internet (unless the first half was even worse than I recall) but being slightly more impressive is better than nothing. The question is will it continue? As ever time will tell, even if history isn't exactly on Mossley's side.