If you're somebody who visits this blog in the seemingly forlorn hope of one day reading a match report in which the word count doesn't approach four figures, then today is the one you've been waiting for.
I'd like to be able to bring you (or indeed inflict on you if you only come here for the sole purpose of having your sensibilities offended) my usual outpouring of meandering flimflammery but the nature of this match makes it impossible to do just that. I mean, how do you write about an FA Trophy game in which next to nothing happened? As it turns out, the answer to that question is 'with great difficulty'.
The opening period was as dire a half of football as I've seen in quite some time. Nothing of any note happened at all apart from the wind blowing, the birds chirruping and everybody very, very slowly getting 45 minutes older. A small frog also appeared on the edge of the pitch midway through the half and the fact that this has got a mention
and
a photograph should be a good indicator as to just how bad things were.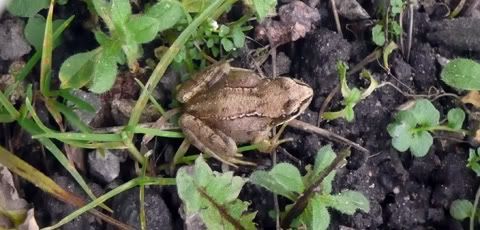 A frog. Probably as bored as us too.
Eight minutes after the interval the tedium was finally broken when not only was there a shot, it was on target and it hit the back of the net too. By this stage of proceedings I don't think supporters would have cared which side scored as long it meant something had happened but thankfully for the home fans it came in Mossley's favour; Mike Oates dinking the ball over a couple of players and the line with what the tabloids would probably call a 'cheeky little lob.' And should you so wish, you can watch it over and over again:
Moments later Connor Hampson scuffed a shot wide when it looked easier to score and with it came the end of the brief flurry of excitement, the game quickly returning to its pre-goal dreariness. And, oh, how the Lilywhite supporters wish it had remained that way as with 15 minutes of the match to go and Kidsgrove posing no threat at all, Mossley's philanthropic nature gifted them an equaliser. That's far nicer than saying it was yet another almighty cock-up isn't it?
Stop me if you've heard this one before but it began with a ball that should have been cleared but wasn't. It was then rolled gently to the feet of an opposing player and after being given a guard of honour by the Mossley defenders on way to into the box, he had the time to measure and then hit a low shot past Peter Collinge which pulled his side level.
There was a half-chance or two for Mossley in what time there was remaining but the unwanted prospect of a Tuesday replay loomed larger with every misplaced pass and dead end run. And that's what the final whistle brought: the chance to re-watch both sides bore one another again in midweek, only this time at a ground 30 miles closer to the equator.
I'd go into further details about how we played, the good and bad points, etc., but that would mean spending even more time dwelling on a game and I need to put out of my head as soon as humanly possible. Especially if I want the nightmares to stop.