Apart from a few sides at the uttermost ends of the football spectrum, that is the extremely bad and the extremely good, a season for most sides is akin to a sine wave – a series of highs and lows with a constantly shifting frequency.
With this in mind, at this precise moment it's fair to say that after riding an early season peak, Mossley are currently barrelling down the slope of a deep trough. The depressing thing is that there's no visible point where you can see the slope flattening out either.
Given the nature of their upcoming fixtures between now and the New Year, this game, against a side rock bottom of the league and without a win in it, technically represented Mossley's best chance of halting their losing streak.
However, for the second week running Mossley's inability to kill teams off when they were comfortably on top in a game was to prove costly once more as profligacy in attack, along with a considerable amount of charity in defence, allowed Salford to record their first victory in the league this season.
And the frightening nature of their near surrender after the interval leaves you seriously wondering where those next points are going to come from.
There was no foreshadowing of what was to happen after the break when the match got under way as straight from the kick-off the Lilywhites looked determined to put their recent run of bad results behind them. In doing so they exerted a tremendous amount of pressure on their opponents goal, fashioning a succession of chances from some fantastic build-up play down both wings.
Initially the chances were going begging as players narrowly missed out on applying the finishing touches but when they finally did start connecting with the stream of through balls and crosses being played into the box, the Salford goal began to live a charmed life.
At least it did until the 19th minute when Christian Hirst fed Lee Blackshaw's low cross into the path of Danny Egan and the former Macclesfield player slipped the ball under Martin Campbell to give the Lilywhites a thoroughly merited lead.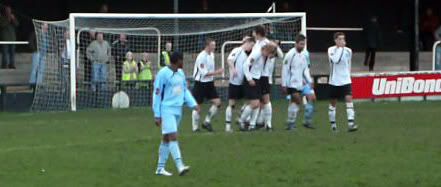 Danny Egan receives the congratulations of his team mates after netting the opener.
That changed though eight minutes later when Danny Toronczak found himself alone with the ball at his feet on the edge of the Mossley penalty area, the home team's defence seemingly having gone AWOL. It was an open invitation to score that the ex-Lilywhite forward had no qualms in accepting and he calmly slotted the ball past Ashley Connor to give the visitors a surprise equaliser.
The goal saw Mossley redouble their efforts as an attacking force and within seconds of the restart the City back line were literally throwing themselves in front of the ball as the Lilywhites began to pepper their goal with shots. On the occasions their efforts proved ineffective, goalkeeper Campbell was turning out to be a more formidable barrier.
He was confined to the role of a worried spectator though when on two occasions during a sequence of six consecutive corners, his defence went spectacularly close to putting Mossley back in front. The first saw Marsh hammer the ball into the side netting and fropm the resulting corner his partner in the centre of City's defence, Pollock, scooped an attempted clearance over his own head and onto the crossbar.
As half-time approached though the home side failed to heed the lesson about leaving their opponents unmarked from the first goal and the consequence proved damaging. It was Toronczak once more who was afforded acres of space to bring a long ball under control, only this time he was upended by the onrushing Connor before he could get his shot away. The awarding of a penalty came as no surprise and neither did Toronczak's conversion of it.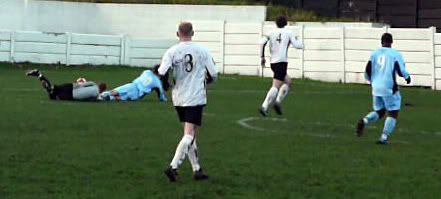 Ashley Connor floors Toronczak for the penalty.
When the teams went off at the interval there was no reason to think why Mossley couldn't get back into the game but the expected onslaught of Campbell's goal after the break never materialised. Instead, for every bit as a good as they were in the first half, the Lilywhites were the complete opposite in the second and they looked a beaten side straight from the restart.
And that's exactly what they became in the 58th minute when Salford's impressive start to the second period, one which had seen them go close to extending their lead on more than a couple of occasions, was rewarded with a third goal. Once again, the ease in which it came was disturbing as Nathan McDonald was allowed to run through a host of motionless white shirts to glance home a free-kick floated into the box by Lathan Forrester.
A series of changes to both the Mossley personnel and formation only had the effect of looking like chaos theory was being employed as a way of salvaging the game – the "if we're unsure of what we're doing, our opponents will have even less idea" gambit. I know it wasn't intentional but as players drifted from one position to another (at one memorable point three of them occupied the same small space on the pitch) shape and a plan of attack became an alien concept.
By the time the things had settled down and the changes had begun to take effect, the match was virtually over. A late rally by the Lilywhites saw Danny Egan notch his second goal of the game and halve the arrears but it was too little too late. If anything, instead of giving Mossley a boost for the closing moments of the match it seemed to inspire Salford more and if Barry Massey hadn't wasted two gilt edged chances, and I mean a couple of point and laugh misses, their winning margin would have been much greater than one.
As I mentioned a few hundred words ago it's hard to see where the next point is going to come from, especially if we can't stop fingering the self-destruct button that somehow manages to attach itself to all Mossley sides – enabling us to lose games that looked an impossibility to do so.
It can be argued that luck, or rather the absence of it, is also playing a role in our current tribulations but the recent run of defeats can't solely be put down to a lack of good fortune. Poor marking? Yes. Not taking our domination of games to its logical conclusion? Yes. Spurning chances? Yes. An inability to deal with a forward line containing a modicum of pace? Yes. Because someone walked under a ladder or smashed a mirror? Highly unlikely.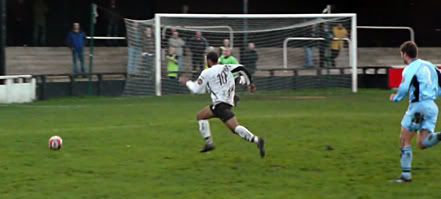 Whatever, the situation we currently find ourselves in now is that out of the last twenty four points available we've managed to take just five. Of course, in some of those games we've faced sides such as Newcastle and Halifax who are expected to be challenging for honours come April, but conversely, in Salford and Garforth we've come a cropper to struggling teams because of the same failings: converting chances and preventing our opponents from doing likewise.
Hopefully the form we exhibited in the early stages of the season will make a welcome return over the course of the next month. If it does then as well as going a long way to securing our place in this league, we can maybe upset the apple cart for a few teams with promotion on their minds and possibly reignite our hopes of moving upwards too.
If it doesn't then I think we may be in for our third consecutive long winter. Albeit one with better football to watch during our 'good' patches.
Events at Bamber Bridge on Tuesday may give us a pointer as to which of the two paths it is we end up heading down...