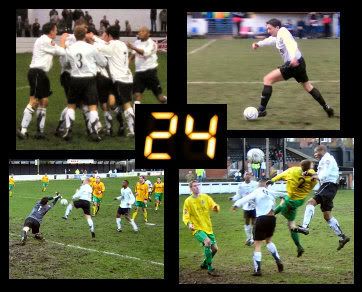 "My name is Jack Bauer - this is the longest season in my life."
24. The number of points available for us to save ourselves from the drop.
And I'm sure that like the eponymously titled TV programme there'll be plenty of twists and turns over the remainder of the season, although hopefully with fewer nuclear detonations and without the troubling ultra right wing ideology that pervades the new series. I am sure though tht there will be scenes of torture.
The first 1/8th of those points are up for grabs on Saturday as the Mossley roadshow pitches up in Guiseley for the second time this season; the Lilywhites travelling to West Yorkshire in the hope of it being third time lucky against the club that doesn't appear to have a nick name.
Back in September Mossley exited the FA Cup in ridiculous fashion when after drawing themselves level late on in the game, they proceeded to throw it away in the last minute thanks to what the media would call "a defensive mix-up". One week later and a few more "defensive mix-ups" gave Guiseley three points in a league fixture at Seel Park;
Since then Guiseley have undergone a managerial change and former Rochdale, Hull, Bradford and York manager Terry Dolan now occupies the hot seat. Charged with improving on his predecessors efforts at getting the team to the edge of the play-offs, Dolan's side currently lie in, erm... sixth. For more on the man's undoubted "managerial skills" I strongly suggest you check out his page on
Wikipedia
where some supporters of his ex-clubs appear to have paid tribute to him.
Guiseley though are currently one of the form sides in the league having won four of their last six games and only lost three times at home but (here's the good news for Mossley) they haven't kept a clean sheet in the league for twelve matches.
Prediction: I'll admit that it's hardly the most scientific of reasoning but I'll say 'win' purely because I won't be there to see it. However, I'm sure that my regular phone calls to Guiseley from the Tameside Stadium will confirm my belief that it's another three points secured in our battle against the drop.